Book Review: She Who Became the Sun by Shelley Parker-Chan
Reviewed by Kamryn Kronschnabel, Patron Services Librarian
If you're here, I assume it's because you want to hear my pitch about a gorgeously written, heart-wrenching epic about destiny. Buckle up, everyone, because we're going back to a fantastical 14th century China to talk about a peasant who stole another's destiny and a eunuch who can't escape his own.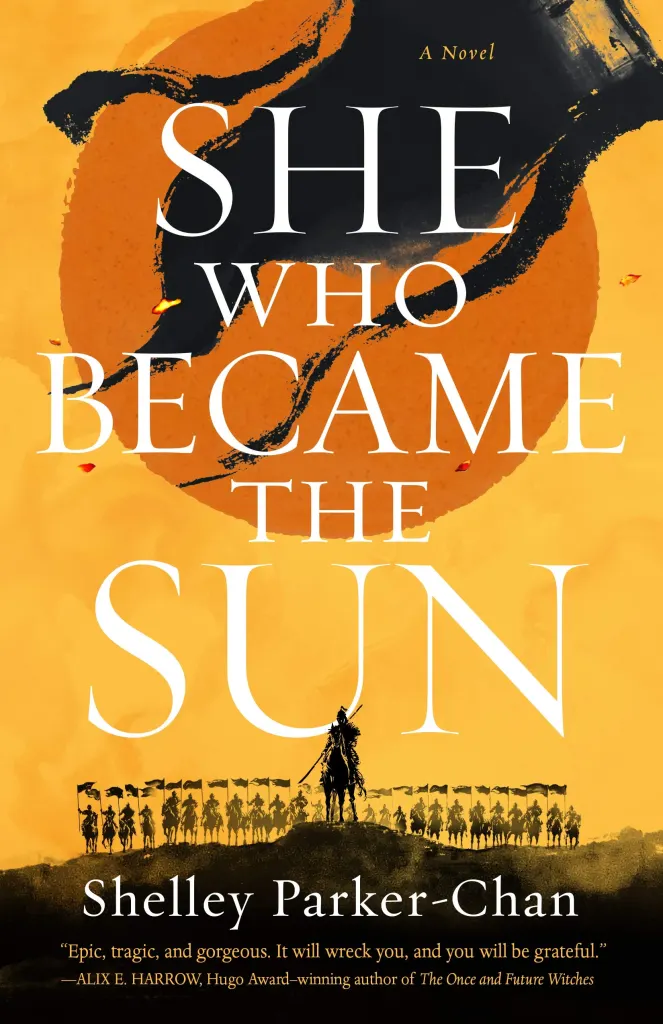 Our first of two protagonists is known by Zhu Chongba. This is not truly her name, however - it was the name of her brother. Born and raised in a drought-stricken village, Zhu was originally the eighth-born son whose destiny was greatness - a greatness so large that the fortune teller dropped to his knees when telling this to their father. When Zhu dies of shock and a broken heart after a bandit raid, it is the clever and cunning sister (without a destiny) who takes his name and disguises herself as a boy. Zhu - now the sister - takes refuge as a novice in a monastery and eventually joins the Red Turban rebellion against China's Mongol rulers. She must navigate the politics of the rebel leaders and prove herself in battle if she is to achieve the fate she stole from her brother.
On the opposite side of the conflict is Ouyang, also not fully a man - his family all accepted slaughter in the face of the Mongols, but young Ouyang had chosen castration so that he might live, even if it is in service to the prince's son as his general. It becomes clear as we begin to see Ouyang's perspective, however, that his fate is to seek revenge for the murder of his family… and Zhu inadvertently gives him an opportunity to fulfill this destiny. He must put aside what he wants and wishes would happen to manipulate his masters and only friend to put his ghosts to rest.
I found this book to be, surprisingly, uncomplicated. While novels with overwhelmingly complex political machinations exist, Parker-Chan manages to keep the politics simple enough that we never lose sight of who the important players are. Considering that this is based on history and the real people who lived it, this is no small feat translating it to the page in a way that makes it still approachable. Zhu and Ouyang are magnificently written as well; for all their similarities, their approaches to the world vary greatly, and yet they have an unspoken understanding of one another as being neither men nor women in a world that only recognizes those two genders. Their journeys are similar enough that it's heartbreaking when they have to make different ruthless choices, and it's even worse when they have to make the same ruthless choices. Parker-Chan's decision to add fantasy elements only helps to build the world and add to the narrative: the simplest example is that Zhu can see ghosts, which adds an extra dimension to the setting and conflict. The one thing this book lacks is something that will soon be rectified - She Who Became the Sun is the first in a duology, and the second part is yet unpublished.

While I know how real history turned out, I can't stress enough that this book of a woman and eunuch who work to overthrow an empire is wonderful, and I can't wait for the sequel to be released. She Who Became The Sun is available both in Charles City Public Library's physical collection and through BRIDGES and Libby as an audiobook or ebook. Check it out in an electronic format by logging on to Libby, or come in or call to check out our print copy.