Book Review: Mexican Gothic by Silvia Moreno Garcia
Reviewed by Kamryn Kronschnabel, Patron Services Librarian
Looking for a smart, unusual, bone-chilling segue into the horror genre? Silvia Moreno-Garcia's Mexican Gothic might be the one for you.
Noemí Taboada is a debutante in 1950s Mexican society who both suits the world of cocktail parties and also aspires to get a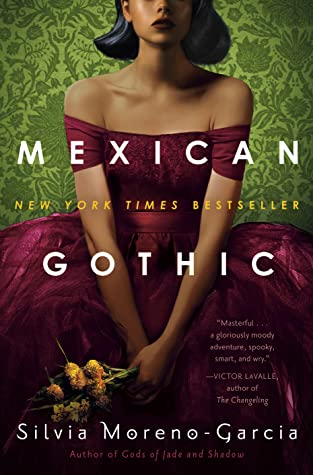 master's degree in anthropology. Her chance to get an education comes when her father gives her an unusual assignment, with university as her prize: to go visit her cousin in her new husband's family home, High Place. Noemí's cousin has sent them a mysterious and frantic letter, where she seems to describe a haunting in the house and claims that her English husband and his family are poisoning her. Sending Noemí to check up on her is an easy way to make sure nothing is wrong while keeping face in society.
Both for the degree and out of genuine concern for her cousin, Noemí makes the trek and finds that High Place is even more secluded and cold than she could have imagined. Located high above the town and shrouded in disconcerting fog, what was once a grand house seems to be falling apart, and horrific visions begin to invade Noemí's dreams the longer she stays. The servants seem almost mute, the family is strict and callous, and her cousin-in-law is menacing and alluring; she begins to notice undertones of incest in the family too, as the ancient patriarch seems to be obsessed with the racial qualities of Europeans and Mexicans, in "maintaining bloodlines," and in the purity of his family. Aside from her sick cousin, the youngest member of the family seems to be Noemí's only ally - but, with only one family member willing to help her, can she learn the secrets of High Place in time to discover both what's wrong with her cousin and what's slowly becoming wrong with her?
I didn't have many specific expectations when I picked up this book, but I was absolutely blown away. Moreno-Garcia has taken the classic structure of a gothic novel - a spooky house, leering characters, and supernatural elements - and added in topics of modernity, particularly colonialism and white supremacy, as underlying themes to make the horror of this story very effective. Noemí as a protagonist is kept close to us with the way she's written, and that makes it all the more awful as the house begins to invade her dreams and marr the distinction between hallucination and reality. It adds up to a book that readers won't be able to put down - and even when turning the last page, readers will struggle to leave their experiences at High Place behind. It amounts to an excellent, haunting read.
Mexican Gothic is available in print at Charles City Public Library or as an e-book and audiobook through BRIDGES with your library card. Come in or call today to check it out!