Book Review: Erotic Stories for Punjabi Widows by Balli Kaur Jaswal
Reviewed by Kamryn Kronschnabel, Patrons Services Librarian
Slide over, Fifty Shades of Grey. While it might not be quite as detailed in its promiscuous encounters, Balli Kaur Jaswal's novel Erotic Stories for Punjabi Widows has a lot more going for it for readers who want plot and humor with their passion.
Our protagonist, Nikki, is the liberal London daughter of Indian immigrants, and she can't help but feel like she's a disappointment to her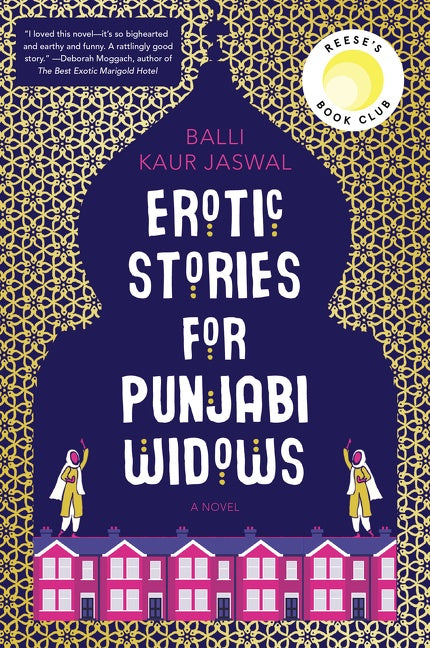 family. She's a law school dropout, she's trying to live on her own (a big cultural no-no for more traditional Sikhs), and is working in a London pub while she's trying to figure it out. She takes a chance when she interviews to teach a writing class for a Punjabi community center, figuring she has nothing to lose by earning a little extra cash and seeing if teaching is something she feels more passionately about than law. There's… something of a miscommunication, though. Nikki expects it to be a creative writing class, but the widows who sign up expect to learn their ABCs. The compromise – in a twist Nikki certainly didn't see coming – is to spend a portion the class time learning the basics of English and the rest of the time telling each other erotic stories based on their fantasies and memories with their deceased husbands.
Nikki, a modern girl through and through, is 100% in favor of helping these women express their desires, but at the same time, tension is brewing in this area of town. Conservative Sikhs have taken it upon themselves to police the community, and gossips always threaten to expose Nikki's writing class for what it really is. As Nikki gets more and more involved in the community, she learns her boss's daughter, Maya, died under hushed circumstances and – with the insights provided by her students – that something doesn't quite add up. Metaphorically assaulted from all sides and always at risk of being found out, can Nikki help her students break the mold these widows are expected to fit into? And can the trust they build help discover the truth of what happened to Maya?
I wasn't quite sure what to expect picking this one up, but when I finished, I found myself wanting more! It was a wonderful mix of humor and sensuality – these widows are spicy, y'all – that balanced perfectly with the more serious plot lines, all while painting a rich picture of Punjabi culture and the conflicts that come in honoring Eastern traditions while living in a Western city. Jaswal lovingly rendered the characters as well, with many of them firmly holding one foot in convention and the other in modernity. And since I listened to it as an audiobook through Libby, I have to give a huge shout-out to Meera Syal as a narrator – she did an excellent job portraying each character uniquely and did wonderfully with many different accents.
My only cautionary note to readers is that discussions involving violence against women happen in the book's more serious moments. This theme comes naturally into the conversations and isn't out of place in context, but it could make some readers uncomfortable.
I listened to the audiobook through Libby and BRIDGES, but Erotic Stories for Punjabi Widows is also available as a physical copy at Charles City Public Library. Contact us at 641-257-6319 or stop by the library to borrow it today!