Book Review: Allergic by Megan Wagner Lloyd
Reviewed by Kamryn Kronschnabel
As an adult without children, I rarely venture into the Junior Fiction section of our collection at the Charles City Public Library. I do, however,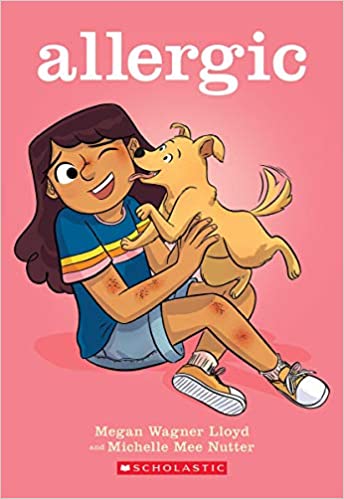 get to see new books as they come in, and the stand-alone graphic novel Allergic by Megan Wagner Lloyd immediately caught my eye. The premise seems obvious from the cover alone, but I found it a sweet story about adapting when life brings unexpected obstacles.
Our protagonist, Maggie, is turning 10 in chapter 1, and she's convinced her parents to get a "family dog" because of her love for animals. Make no mistake, though – her mom and dad are preoccupied getting ready for a new baby, and her younger twin brothers entertain themselves well enough on their own. This dog will be hers and hers alone, as she struggles to get the attention she needs from her busy family and starts attending a new school without any of her friends.
The problem? It becomes alarmingly apparent when they get to the shelter that Maggie is severely allergic to anything with fur or feathers.
From there, Lloyd takes us through the next several months of Maggie's life as she gets officially diagnosed, makes new friends who also have allergies, gets shots to mitigate the worst of her reactions, and tries to figure out exactly which type of pet is the right one for her. The book explains allergies thoroughly, from the concept of an Epipen to why we have allergies from a medical perspective. Little snippets of life that occur over just a few drawings – like the guilt Maggie feels when her brother carelessly says it's "Maggie's fault" that they can't have a pet, or the feelings of betrayal Maggie experiences when a friend gets a dog that prevents her from visiting – are relatable episodes for anyone who has a chronic illness. As an adult with a different chronic illness, I wish I'd had a book to read like this when I was about Maggie's age, and I would be hard-pressed to think of another book that handles these oft-unsaid, emotional facets of chronic medical issues as well as this one.
By the end of the book – slight spoiler alert – Maggie is not magically cured of her allergies. But she has fixed the void she hoped a dog would fill through the help of her friends, a better understanding of her family members, and test-driving a lot of other pets (and I do mean a lot). A quick read for adults and an informative read for kids, stop in or call ahead to borrow a copy of Allergic from the Charles City Public Library.