Book Review: Under the Whispering Door by T.J. Klune
Reviewed by Kamryn Kronschnabel, Patron Services Librarian
One book that made a pretty big splash amongst us Charles City librarians this past year was The House in the Cerulean Sea by T.J. Klune, a charming story about an orphanage inspector who accidentally finds a family while he's out on a month-long work assignment. It wasn't Klune's first book, but it wasn't like anything he'd written before, and when we found out he was publishing a spiritual successor this fall, we all got very excited. That book – and this review – is Under the Whispering Door. 
Lawyer Wallace Price is, frankly, an Ebenezer Scrooge protagonist through and through – whether you ask his ex-wife or his employees or his business partners,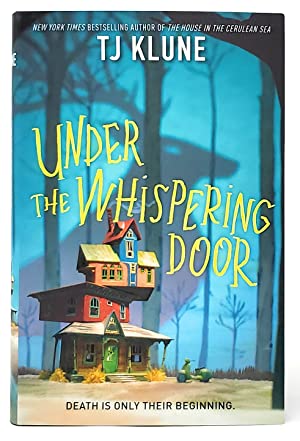 nobody has many positive things to say about him as a person. Unlike Scrooge, however, the closest thing Wallace gets to a wake-up call is arriving at his own funeral after a heart attack at the ripe old age of forty. Turns out death isn't quite the end he thought it would be. 
Now a ghost, he finds stuck in Charon's Crossing, a tea shop he's led to by one of the two living humans who can see him. They're meant to help him cross over to whatever's next, through a door in the building immersed in whispering voices, but they're also firm that he has to make that choice for himself – something he's not quite ready to do yet. Between two other ghosts who've taken up an apparently permanent residence, the sarcastic young reaper who brought him there, and the charming Hugo who runs the tea shop, he falls into a comfortable ghostly existence… But when the shop accidentally incurs the attention of The Manager, the not-life Wallace leads there is cut short by The Manager's demand that Wallace has seven days to pass on to whatever lies beyond the whispering door.
And what Wallace does with that time will change the dead and the living at Charon's Crossing alike. 
I had high expectations because of Klune's The House in the Cerulean Sea, and (while I didn't enjoy this novel quite as much) Under the Whispering Door still meets most of those expectations and pulls at a lot of heartstrings. Most of the difference is simply in the cast of characters and how they develop against one another since several of them are dead – there's no pretending that the heavy moments don't happen. The pacing of this book was also rather unexpected; the demand that Wallace goes through the door in a week's time doesn't actually come until, perhaps, readers are 80% into the book. Since it doesn't happen as quickly as I'd initially expected, the middle sections sometimes feel like a "slice of life" break (no pun intended) with interesting character development. All of that said, though, Klune's easy writing style lends itself well to a mostly-gentle read that makes death, the (arguably) most tragic subject one could write about, into something delicately beautiful. 

Under the Whispering Door was a lovely follow-up to Klune's The House in the Cerulean Sea – sweet, heartbreaking, emotional, and ultimately hopeful. Stop in, check our online catalog or call 641-257-6319 to reserve a copy today!