Book Review: The Rosie Project by Graeme Simsion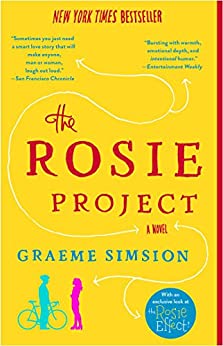 Is finding love an exact science?
If you were to ask genetics professor Don Tillman, the first-person narrator of The Rosie Project by Graeme Simsion, he would agree that there is an orderly, evidence-based way to do so – and that's exactly what he tackles with his questionnaire he calls The Wife Project. Sixteen pages long and filled with questions designed to weed out imperfect applicants, he's confident he can use it to find a suitable life partner despite his general social ineptitude and inexperience with women.
Enter Rosie, directed to his office by Don's polar-opposite colleague Gene (while Don is precise and measured in every aspect of his life, Gene has made it his mission to sleep with a woman from every country in the world). Don disqualifies Rosie from The Wife Project due to her smoking, habitually late arrivals, and spontaneity – all things addressed in his questionnaire – but his interest is piqued by her quest to identify her biological father. Together, as the unlikely duo collaborates on The Father Project and get closer to one another, Don finds himself stepping out of his comfort zone, throwing out his carefully structured habits, and realizing that maybe relationships aren't a science after all.
Simsion's debut novel is laugh-out-loud funny at moments, particularly as the reader absorbs the world from Don's calculated perspective. From the first page, we learn he has his daily schedule down to the second and knows that he requires exactly forty-nine minutes to clean his bathroom – combined with his inability to neither pick up on sarcasm nor recognize it when a woman does flirt with him, he makes an endearing protagonist. Gene serves as Don's personal foil, whose own side quest for sex partners is highly entertaining, and Rosie is an enigma for the reader to delve into and discover with Don.
The Rosie Project is available for checkout in Bridges and at the Charles City Public Library.
Kamryn Kronschnabel
Patron Services Librarian