Book Review: One Last Stop by Casey McQuiston
Reviewed by Kamryn Kronschnabel, Patrons Services Librarian, CCPL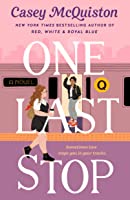 If I had a nickel for every time I've read a book featuring a romance between a modern-day bisexual college student and a 1970s lesbian who's stuck in time on the New York subway, I'd have one nickel. If I had a nickel for every time I've gushed about how great said book was, though, I'd have a lot of pocket change.
One Last Stop, by Casey McQuiston, is a new gem in our collection. August is our protagonist, a twenty-something who isn't quite sure what she's doing with her life and ends up in New York City. She's on her fifth-ish year of college, has moved in with some eccentric but loveable roommates, and (within the first chapter) gets a job as a waitress at a Brooklyn pancake diner. It isn't until she pops on the Q line of the NYC subway, though, that her world is turned upside down by Jane, a punk lesbian displaced in time from the 1970s. As we know from the back cover, though, Jane is stuck on the subway, not quite able to remember who she is and disappearing whenever she tries to leave the Q line – and August becomes determined to help her get un-stuck, even if it means losing Jane to the time she came from.
I didn't fully know what to expect from One Last Stop by Casey McQuiston when I picked it up – McQuiston earned quite a bit of clout with her debut romance novel Red, White and Royal Blue in 2019, but romance is a wide enough genre that I couldn't be sure what I was getting into with this second book. Admittedly, my expectations were optimistically high… and I got lucky. Boy howdy did this book deliver. The mysteries surrounding Jane – How did she end up on the train? How can August get her off the train? and How often will they experimentally kiss before they finally admit their feelings for one another? – are the driving force behind the book. That said, even the secondary plots are wonderful additions: August's roommate can't quite admit his feelings for the drag queen across the hall, her mother keeps bothering her to help find August's long-lost uncle (whom she's never met, mind you), and gentrification threatens businesses in the neighborhood they all call home. It's a beautiful, queer, lovingly-rendered picture of young adult city life.
A word of caution for the emotional readers out there, though – I cried straight through the last few chapters of One Last Stop. I imagine this makes you guess at the ending, but I can almost guarantee that you'll be surprised anyway.
McQuiston's novel One Last Stop (as well as her debut Red, White and Royal Blue) is available for checkout at Charles City Public Library. Stop in, call ahead, or log in online to reserve today.