Book Review: Meet Me at the Museum by Anne Youngson
Reveiwed by Kamryn Kronschnabel, Charles City Public Library Patrons Services L
Anne Youngson didn't start her writing career until she'd technically retired from the workforce, but the 2018 publication of her debut Meet Me at the Museum was worth the wait. Charming, unique, and able to pull at your heartstrings, this book is an easy read and a quiet delight.
Meet Me at the Museum follows two protagonists as they write letters to each other - first as a sort of curious, academic correspondence;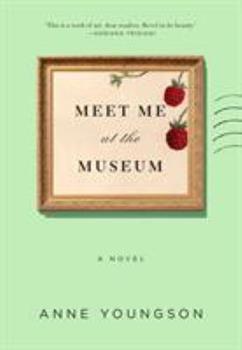 then as penpals who enjoy learning about each other and appreciate having a new person to open up to; and finally as a deeply caring friends, who may be teetering on the edge of something bigger. The initiator is Tina, a woman whose life hasn't turned out at all the way she'd expected. She lives with her husband and grown children on a farm in rural England, and while she doesn't feel sad with the course her life has taken, the choices she felt pressured into slowly eat away at her. The other party across the English Channel is Anders, a recent widower whose two children live in other places in Denmark. He works at the Silkeborg Museum, where the famed Tollund Man is kept and preserved, and it's because of this that Tina first writes to him about something she may yet choose to do - visit the Tollund Man as a way to honor the memory of her best friend.
Their letters, while a bit slow at the beginning of the book, eventually talk about everything under the sun. Subjects vary, from how they decorate their houses to their wishes for their children to asking each other for advice. Youngson does an excellent job of giving each character their own distinctive writing style, making their letters feel genuine, and allowing the growth of their friendship to be believable. I wasn't terribly invested in Tina and Anders when their correspondence first started, but as the book progressed I felt more and more enamored with them and invested in how their pen pal relationship would end. It was also interesting to me, as someone who is probably half their age, how their perspectives had changed as they'd gotten older and how it affected their take on life in their letters.

Meet Me at the Museum is available for checkout at the Charles City Public Library. Stop in or call 641-257-6319 to reserve it today!