Book Review: The Map of Salt and Stars by Zeyn Joukhadar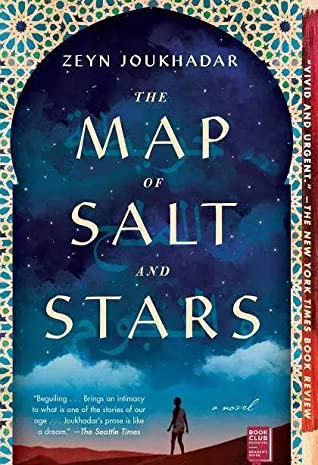 The definition of "home" is different for everyone, and the characters in The Map of Salt and Stars, by Zeyn Joukhadar, have to decide what it means to them in the midst of trying circumstances.
In 2011, young Syrian-American Nour is struggling both with how to cope after her father's death and how to settle in when her widowed mother moves the family back to her homeland of Syria. After three months of trying to adjust, bigger issues arise: their family home is destroyed by a shell and nearly kills them all. Together, they all embark with other Syrians in their position to find a new home and, ultimately, make their way across the Middle East and North Africa as refugees. The underlying question she has, as her family encounters danger after danger: will she ever find a place that feels like home again?
Meanwhile, Nour remembers a story her father told her of a courageous teenager who lived 800 years before them. Rawiya, a young woman also without a father, is restless to see the world and make her fortune. To do so, she apprentices herself to a famed mapmaker while disguised as a boy and finds herself travelling across the Middle East and North Africa (sound familiar?) to help her master create a map of the known world. She will live through epic battles, attacks by fantastic beasts, and meetings with historically significant figures… and yet there are times when Rawiya wonders: will she ever make it back to see her home again?
I'll be the first to admit that I'm not a fan of the "dual-timeline" trend that seems to be appearing in lots of fiction lately. I was willing to put that prejudice aside for this book, though, and I'm thoroughly glad I did. Joukhadar wrote in many more parallels to Nour's and Rawiya's stories than I expected, and I became engrossed with both their tales as I tried to guess the parallels before they were explicitly stated in the story. Rawiya's legend also helps Nour in some unusual ways and brings some unexpected magic to the contemporary storyline. That said, there are already hints of magical description in the contemporary timeline because Nour has synesthesia, a condition where sounds translate to colors in her mind. I wish this would have come up more often, even, because some of the ways Joukhadar uses Nour to describe the world with her condition give a fascinating additional dimension to her/her family's experiences.
The Map of Salt and Stars is available for checkout from Charles City Public Library or as an e-book through BRIDGES and Libby if you log in with your library card and phone number. Contact us at 641-257-6319 or stop in to borrow it today!