Book Review of "The Lonely Heart of Maybelle Lane" by Kate O'Shaughnessy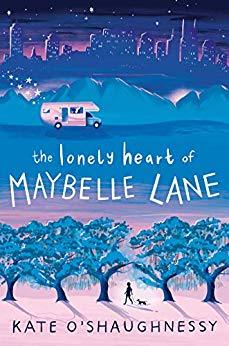 How do you pick books to read? Do you only read books by your favorite authors? Do you read something different every time, not really caring what it is, just that it's a good story? Or do you look at the cover and decide? Me? I'm somewhat of a rut reader. I have my favorite type of book and generally have a hard time reading other genres unless it's been a while since I've read a good fantasy and I don't have the characters in my head. Recently, I picked up "The Lonely Heart of Maybelle Lane" by Kate O'Shaughnessy. This one is not part of my rut reading style. But it is the All Iowa Reads selection this year for kids, so I thought I should try and read it. Now, should read, is a dangerous road to go down. It can make reading the book feel a little bit like homework and then you really, really don't want to read it, but I thought I'd give it a shot anyway. All Iowa Reads, in case you didn't know, is a program that the State of Iowa has where a committee of librarian and Iowa Center for the Book professionals select one book a year for kids, teens, and adults. "The purpose of All Iowa Reads is to foster a sense of unity through reading. We encourage Iowans statewide to come together in their communities to read and talk about a single book title in the same year. "So, I read "the lonely heart of Maybelle Lane." And to my surprise, I really enjoyed it!
As the story begins, we join Maybelle and her mom on the way to the Shop 'n Save during the second week of summer vacation and Maybelle's fate is about to make a grand entrance. Maybelle and her mom live in a trailer park in Davenport, Louisiana. Maybelle knows nothing of her father and due to family misunderstandings, they no longer have contact with her grandparents. All she had of her father was an old voicemail on a cell phone she found in a drawer until her Momma found it and erased it, but Maybelle had already memorized his warm laugh.
It's just the two of them and Momma works a lot trying to pay the bills and realize her dream of being a singer, so Maybelle is alone much of the time. To fill the hours, Maybelle collects sounds on an old cassette recorder. Sounds that no one else thinks are important.; sounds like the shhh-shhh-shhhhk of a grasshopper after a rain.
In the car on the way to the Shop 'n Save, as fate would have it, Maybelle hears her father's voice on the radio advertising an upcoming singing competition that he will be judging in Nashville later that summer. Her momma goes silent when she asks questions, then begs May to not even think of him, he'll only break her heart. Of course, Maybelle, like any other 11-year-old, can think of nothing else and as her momma gets a chance of a lifetime to sing on a cruise ship for the summer, she hatches a plan to get to Nashville and meet her father once and for all.
All of the people Momma asks to stay with Maybelle for the summer fall through and she ends up with her kind neighbor and elementary school English teacher, Mrs. Boggs who lives in an RV right next door. Mrs. Boggs has her own story that we only learn in bits and pieces throughout the novel. What follows is a crazy summer filled with adventure, handicapped dogs, and life lessons, conquering one's fears, making new friends, and learning what love really means. Tommy, a boy May's age who also lives in the trailer park and has his own set of problems, weasels his way into the adventure and her heart. Along with Mrs. Boggs, Tommy, and Pickle (the handicapped dog), Maybelle learns that life has a way of working out in the end and so do journeys of the heart.
You are sure to find more than you are looking for when you pick up "the lonely heart of Maybelle Lane" by Kate O'Shaughnessy. When you do, come and chat with me about it and we can share that adventure! The book is available for check out at Charles City Public Library and for download through BRIDGES e-Library.