Book Review: How the Word is Passed by Clint Smith
February is celebrated as Black History Month in the US, and during that month I try to seek out at least one book that brings the Black experience to the forefront, since the rest of the year I hesitate to read things that make me uncomfortable (a problem I'm conscious of and working on). This last February, I happened to pick How the Word Is Passed by Clint Smith, and… wow. I have rarely read nonfiction books that have impressed me as much as this one did, and while I wish I'd plunged into more books for Black History Month, I'm glad this was the one I read and feel that it couldn't be plugged enough.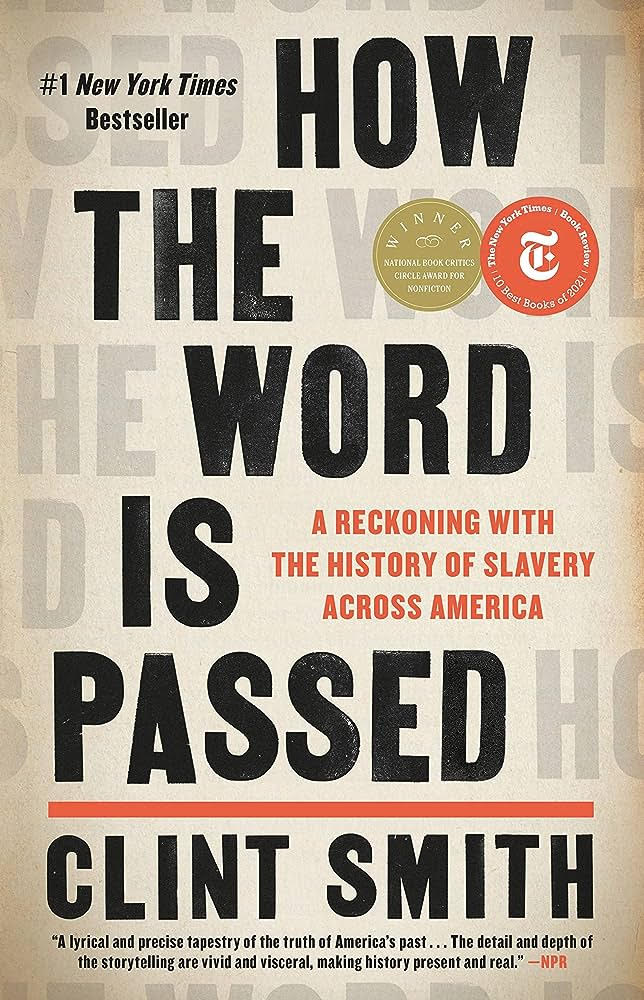 This book has something of an unusual structure: the author doesn't begin chronologically with a particular event or era, as a reader might expect when reading books tied to any type of history. Instead, Smith takes us on a tour of various landmarks, museums, events, and monuments that show various different ways that the US's legacy with slavery is acknowledged – or, in some cases, how it's obscured. Case in point: the very first chapter examines Thomas Jefferson's estate of Monticello, located in Virginia. How does this estate-turned-museum grapple with Jefferson's legacy as a man who wrote declarations for freedom and still owned enslaved people? Smith walks the reader through a guided tour he took that had a specific focus on enslaved life at Monticello, and he struck up conversations with fellow tourists who, from his perspective, seemed surprised at the conditions these Black people experienced. He also took another tour focusing on the main house and its architecture to compare how Black lives were discussed – or not – in other presentations of the estate. He takes similar actions in the other places he features in this book, stretching as far north as New York and even across the Atlantic Ocean for his final chapter, and through it all he contributes both historical facts to bolster the experience as well as his personal narrative to help the reader empathize with his position.
While the above is absolutely true and accurate to the content of this book, I feel like it's impossible to put into a review how impressed I was with Smith's thoroughness. Just a few months later, I read a collection of his poetry (Above Ground) and was similarly astonished. Clint Smith undoubtedly has a gift for writing on heavy topics that can't help but affect the reader. I was blown away by how informative and eloquent I found How the Word Is Passed, and its personal narratives really helped put me in Smith's shoes – something that I admit I can struggle with when it comes to books about racism and caste systems.
If you're intrigued by Clint Smith's work, I can't recommend it enough. This book I've reviewed, How the Word Is Passed, and Smith's aforementioned poetry collection, Above Ground, are both available in Charles City Public Library's physical collection, and How the Word Is Passed is available through BRIDGES and Libby as an audiobook or ebook. Check it out in an electronic format by logging onto Libby or call us to reserve our print copy at 641-257-6319