Book Review: Fourth Wing by Rebecca Yarros
Fourth Wing by Rebecca Yarros
Review By Stacey Leerhoff
Do you ever read a book simply because everyone seems to have read and loved it?? I do, but that may be because I work in a library.  I feel like if lots of people are reading a book and raving about it, I should read it so I know what they are talking about. I am a librarian, after all. "Fourth Wing" by Rebecca Yarros is one of those books. It became a TikTok sensation before I even knew it existed. Then I started hearing the buzz about dragons and the beautiful first printing o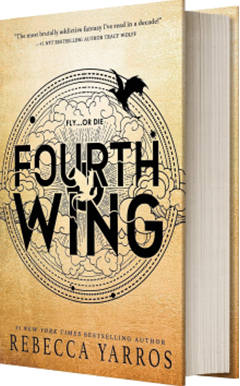 f the book which was at this point no longer available.  I checked the library and of course our copy was checked out. It was all the rage, so I kept looking and I found a copy on Libby, the library's app for ebooks and audiobooks and started listening.
I was pulled in right away. This book hit all of my top loves about good stories: dragons, magic, relationships, and a strong female lead who isn't afraid to speak her mind and stand up for herself!! Ding ding ding! I actually listened to it so fast, I had time to start over and listen again before I had to return it, I enjoyed it that much. I know this book isn't for everyone, but I definitely dig a good romantasy!
The story begins with 20 year old Violet, our main character, about to enter Basgiath War College. Not only must she survive the parapet and her first year, but also the battle her fragile body wages with her every single day. Violet's mother is General Sorrengail, a dragon rider, and her father was a scribe, recording the country's history as it happened. Violet's father had guided her along the scribe path due to the fragile nature of her body, until his heart gave out when her brother, Brennan, another rider, had died. Suddenly, Violet is thrown into a life she doesn't want by her cold, unfeeling mother. Basgaith War College is not for the faint of heart. One must learn to survive at all costs: survive the parapet, survive your classmates trying to kill you, survive a dragon trying to eat you, survive your families' enemies, survive to live and fight in the war.  Along the way, Violet attracts many different people that become either enemies or friends or both. Every chapter is a new way for Violet to die or rise and somewhere in between,  she realizes that this is what she was meant to do: ride and survive. Suffice it to say, this story is nonstop action and excitement. Of course, if you know me as a reader at all, there is also some explosive romance thrown in for good measure in the most unexpected of places.  Now any good book will leave you wanting for more, but this one leaves you hanging on a cliff waiting for the next installment in the series to catch you!! Good thing "Iron Flame" just came out to satisfy that need!
If you're dying to read this one, come in and check out the library's copy or download it from our online resource for ebooks, Libby, today!