Book Review: A Cousin's Promise by Wanda E. Brunstetter
A Cousin's Promise by Wanda E. Brunstetter Reviewed by Chrystal Berche, Library Assistant
(Indiana Cousins Book 1)
The diversity of Amish themed romances these days is absolutely amazing. From bakeshop mysteries to Bishops solving crimes, there is a little something for everyone. Each book sweeps you into different Amish communities and introduces you not only to the main couple of a particular book, but side characters who will be a big part in that couple's story.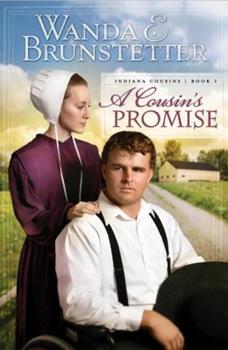 Wanda Brunstetter's A Cousin's Promise is a beautiful introduction to the Indiana Cousin's series, in which an accident changes the lives of not only the cousins but their family and friends. Several times over the course of the book, we see how the community comes together in a time of tragedy, how they look out for one another, and reach out, even when personal relationships between them are strained.
In A Cousin's Promise, the bonds of friendship are tested, the bonds of love are strained, and the bonds between mother and child are redefined as adjustments within each family are made. Grief, loss, hope, pride, healing, and faith are all major topics of this series, as each cousin must take the time to resolve their feelings about the accident, the things it changed for them, and the losses they experienced. For some that means leaving, for others it means staying and trying to fight for the things that are important to them.
Wanda Brunstetter not only takes us into a vibrant community, but she gives the reader two different generations to learn about. The parents of the main characters, who want their children to stay true to the faith in which they were raised and continue with the traditions and skills that have been a part of their lives since they were children, show the reader how sometimes, a parent's best intentions can stifle the growth of a child.
From meddling, interfering mothers, and lies told out of pride and the belief that the severity of an injury means all of a character's hopes and dreams need to be cast to the wayside, this novel takes the reader on an emotional roller-coaster ride right along with the character. For fans of Amish romances, this series offers a great deal of learning and growth for the characters as they strive to overcome the damage done in a single, horrifying instant.