Book Review: Beneath the Summer Sun By Kelly Irvin
Beneath the Summer Sun
By Kelly Irvin
An every Amish season novel
Reviewed by Chrystal Berche, Library Assistant
Currently located in the browsing section at the Charles City Public Library, this delightful Amish romance explores the themes of tragedy, rebellion, grief, long held secrets, and of course, love.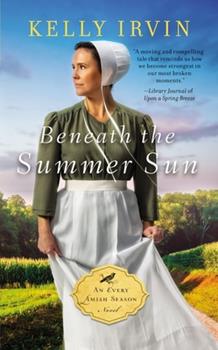 Jennie knows it's a sin to feel relief over her husband's death, so she keeps her feelings to herself, or at least, tries to. Hard working, determined, but with seven mouths to feed and clean up after, it's been a hard road for her these past four years. She knows her sons need a man to help guide them, and her home could certainly benefit from one who is good with his hands and can help set things right again, but there's a secret she's been keeping, and it makes it difficult for her to get close to anyone, especially the two men pursuing her.
One of them has been in her life since they were young, but grief and his own tragedy made him step back and watch Jennie from afar. In his quiet way, he becomes her hero, the one person she knows she can count on no matter what happens to be taking place.
The other is not of her world and has his own questions of faith and family to grapple with. As these characters grapple with the things they cannot forgive themselves for, as well as the forgiveness they have not been able to give to others, the weather grows hotter, and time slowly begins running out for an important community venture Jennie had come to count on for additional income. There is only so much she can do to keep her head above water, especially in the face of damaging storms that rip through the countryside.
As she and others in the community deal with the challenges that have been laid out in front of them, friendships, faith and family are put to the test, sweeping the reader along on a vivid and heartfelt journey.