Book Review: The Awakening by Nora Roberts
Book Review: The Awakening by Nora Roberts
Written by Stacey Leerhoff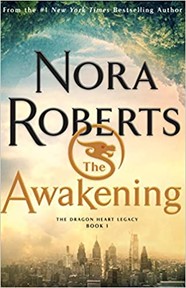 Nora Roberts is a great author no matter what she writes, but my favorites are the series that feature fantasy. She has written novels of romance, post-apocalyptic, magic, witches and most recently dragons!
In the beginning, "The awakening" follows two different storylines, giving you hints along the way to the connections between the two worlds, until they intersect and continue as one story.
In the realm of Talamh, Keegan emerges from a lake sword in hand1 He has accepted the terrifying responsibility to protect the Fey against all evil. Meanwhile in the other realm, Philadelphia, we are introduced to Breen Kelly. She is a young woman wholly dissatisfied with her life and the choices she's made with her mother's prodding. Her father left a hole in her life 10 years ago when he left their family that she has never overcome. He promised to return and Breen, being the rule following people pleaser she was, waited. The time to wait is no more.
While Breen's mother is away on business, Breen inadvertently discovers that she has been hiding an account that was started for her by her father which now holds more than $4 million!! Upon her mother's return, Breen confronts her about all of the lies she's told her through the years, finally taking control of her own destiny instead of shrinking under her mother's opinions.
Breen takes some of her money and rents a cottage for the summer in Ireland, a place she has been called to for many years. In fact, she literally hears a voice in her head telling her to come home to Ireland. While there, she starts a blog, which she titles "Finding Me" detailing her adventures along her path of self-discovery and defining herself when apart from her controlling mother.
Here is where the story really gets good. Breen "falls" through a tree in the Irish countryside into the realm of Talamh. There she meets her father's family and learns that she is more than she ever imagined.
It only adds to the story that Keegan, sexy leader of the Fey whom we met earlier in the story, is tasked with training Breen in their ways and her own powers. She needs to be ready for the confrontation of evil that is on the horizon. He helps her to stand on her own two feet and become the person she was meant to be.  He even takes her flying on his dragon (Swoon!).
Nora Roberts beautifully crafts a world where Fey and dragons coexist in an ultimate battle of good vs. evil, and where Breen must make a choice to step into her destiny. With a full cast of well-developed characters, human and Fey, a skillfully woven world with interesting lore, a swoon worthy romance, and the dynamics of Breen's self-exploration, this book offers a lot to entertain and delight. Add in the cliff hanger at the end of this first installment, and it makes an exciting new beginning to a trilogy that will definitely leave you wanting more!
Stop in today to check out this great new series and any of Nora Roberts' other great novels or login with your library card number to our Bridges ebook system and start reading right now! Find more information on our website for eBook and downloadable audiobook options. www.charles-city.lib.ia.us